Crewe Town Council is leading a three year partnership with Everybody Health and Leisure to develop and deliver a series of health and wellbeing activities within Crewe parks as part of a "Pop Up in the Parks" project.
The latest schedule of activities has now been announced to include:
Wellbeing Walks (Crewe Lifestyle Centre)
Family Dance Fit (Cumberland Play Area CW1 4LA off Sherborne Road)
Family Bootcamps (Leighton Brook)
Family games and circuits (Queen Street)
Morning rise yoga (Queens Park)
The classes will be held at various locations within local parks each week from now until September. They are delivered by experienced coaches and all safeguarding checks are in place.
For more information about these classes in the community, including a class timetable, please visit: www.everybody.org.uk/pop-up-in-the-parks/
How can people take part?
The drop-in sessions are FREE for Crewe residents. Booking may be required for some activities, see the webpage for more details. For all activities - wear comfortable clothes and shoes but no need to bring anything!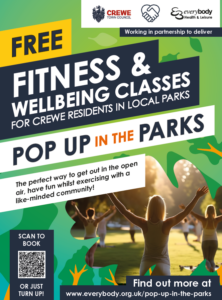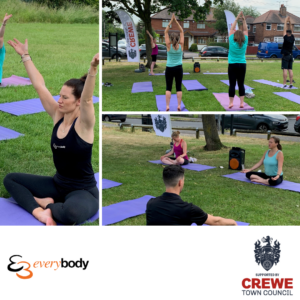 Photo credit: Everybody Health and Leisure.