Autumn half term is on its way to Crewe - it's time to get creative, get outdoors and learn about Crewe's heritage. Take part in spooky activities and enjoy what autumn has to offer with Crewe's FREE to access Operation Autumn programme!
An engaging family-friendly programme of activity has been announced for Crewe that will help to keep the kids entertained during the school holidays. The activities will take place across Crewe, with funding provided by Crewe Town Council.
Families in Crewe can have their faces painted, make spooky lanterns, get out in nature, watch walkabout performers and more!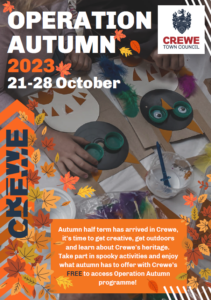 The full programme can be accessed and downloaded here.
All activities are free-to-access family sessions and children will need to be accompanied by an adult at all times.
Promotional leaflets will be available to collect from key community venues throughout Crewe and will be sent home with children in school bags next week.
A spokesperson at Crewe Town Council commented:
"Following on from the successes of Operations Easter and Summer this year, and as part of our expansion of the Operation School Holidays project, we are delighted to introduce Operation Autumn to families within Crewe.
We know that a range of free and fun activities are really important for families in Crewe during the school holidays and we hope that this week of autumn-themed events will keep children entertained, whatever the weather!"