Remembrance Sunday, which falls on Sunday 13th November in 2022, is a day for the whole nation to remember and honour those who sacrificed their lives to secure and protect our freedom.
The event commemorates the contribution of British and Commonwealth military and civilian servicemen and women in the two World Wars, later conflicts such as the Falklands War, the Gulf War, and other conflicts such as those in Afghanistan and Iraq.
In 2022, two Remembrance Services will be held in Memorial Square, Crewe town centre:
Friday 11th November - Armistice Day (for schools - by invitation)
Sunday 13th November at 10.15am (in association with the Crewe branch of the Royal British Legion - all welcome)

Remembrance Sunday Service programme
On Remembrance Sunday, the Parade will depart at 10.20am from underneath the old Library on Prince Albert Street, leading to Memorial Square. At 11am a two-minute silence will be observed.
Please note that the following road closures will be in effect from 10am until 1pm:
• Earle Street (Sandon Street to Vernon Way)
• Prince Albert Street (for its full extent)
• Crewe Street (for its full extent)
• Chester Street (Prince Albert Street to Market Street)
• Market Square (for its full extent)
The Civic Car Park underneath the old Library will not be accessible for parking after 10am.
Photograph credits from the 2021 services: Crewe Town Council volunteer photographer Peter Robinson.
Queries
If you have any queries about the annual Remembrance Services, please contact mayor@crewetowncouncil.gov.uk or call Crewe Town Council on 01270 756975.
Remembrance in Crewe Heritage Resource (EYFS and KS1)
Use our Heritage Resource to find out more about Remembrance in Crewe and why it is important. Have a go at writing a Remembrance poem and making your own poppy badge and wreath.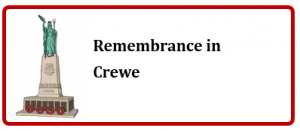 Armistice Service: Remembrance in Crewe (EYFS and KS1)
(Please note that the Armistice Service for schools referenced in this resource is to be attended by invitation only).